Premium Olive OIl
Balsamic Vinegar
Custom 20 oz Mugs
Our New Location
Supporting Kentucky Olive, supports many small businesses, THANK YOU!
Join Chef Meagan and create this awesome meal.
You will have plenty of opportunities to talk to our chef who has learned skills and
practices refined over the years working in the culinary world. 
Our classes typically cover a multi-course meal with the idea of keeping it simple yet full of amazing flavors. 
We strive to create menus that are simple to recreate at home
while teaching little "tricks" to kick your meals up a notch.
Cooking Class July 8th 4pm and 6:30 pm
Please click here to sign up

We plan to limit the class size is limited to 12 

This make a fun night out with friends, couples, parent/child, just come and enjoy. 
You'll be able to see, experience and talk with our chef.  Thank you.

Amish Country Popcorn, Beer Cheese, Loose leaf teas and infusers.
New flavors, new craft sodas, new jams and jellies, new hot sauces,
Unique items for gifts for that special valentine.

Supporting Kentucky Olive supports over 18 other small businesses.
Thank you,
Tom and Tonia Spille

Did you know Kentucky Olive has about 50 flavors of amazing premium olive oils and balsamic vinegar?
We also carry many KY Proud favorites.
RUTH HUNT CANDY is here!
Bourbon Balls, Asst. Chocolates, Cream Candy, Turtles
Gluten Free Muffin Mix and Seasoned Flour
from Bloomfield Farms
COFFEE! KY Proud Kentucky Mountain Coffee available in 2oz, 8oz and K Cups.
KY Proud TEA from our friends at Elmwood Fine Teas in Danville KY.
Bourbon Barrel Foods, Craft Sodas, Unique soft drinks, jams, jellies, BBQ sauces,
Flag Fork Farm mixes, Wiesenberger Mixes and more.
Kentucky Olive makes "what's for dinner?" GREAT!
Store Hours
Tuesday - Saturday 11a - 6:30pm
Sunday, Monday - Closed
8460 US HWY 42 Suite D at the corner of Hopeful Church Rd.
Stay tuned, follow us on Facebook and Instagram for the latest information.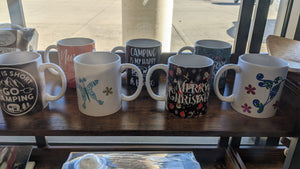 Custom Mugs
Our newest item is our custom mugs. Created just for you by Tonia.
She loves making new designs.
Online Ordering is available on all our products!
Online options are being added but in the meantime, we are happy to put together your order.
Do you see something on our product page or one of our posts on Facebook or Instagram?
We are happy to ship items if you can't make it to the store.
Just email us at KYOliveLLC@gmail.com
Let us know what your are interested in and we will work it out.
Follow us on Facebook or Instagram for pictures of new products.
Redefining The Way You Cook
Our Commitment and goal is to offer the highest quality oils and vinegars for your meals.

We have about 50 different flavors of premium oils and balsamic vinegar to best fit your taste!
Along with oils and vinegar, we offer many small artisan batch KY Proud products as well as from across the United States.  We carry local raw honey and bee pollen, candles, wax melts, CBD extract and bath fiz, goat milk soap and lotions, seasonings and rubs, Ruth Hunt Candy and treats, handmade pottery, hot sauces, cheese stuffed olives, and many more. 
Wildcat Mountain Cheese
KY Mountain Coffee
Testimonials
Fantastic store with many varieties of olive oils and spices. Put some flavor and zing to your cooking."

Tom P.
Their products are of the highest quality and best tasting. Great knowledgeable and friendly staff."

William M.
I love ️ your Balsamic Fig best and the Raspberry. And your olive oils are scrumptious.

Judith D.
Great place, Great people, Highly Recommend

Joshua C